Firstly, this can only be done by someone who has Admin rights and if your Firm is a member of a Network, the Network will need to have given Firms the rights to do this.
To create a custom questionnaire, navigate the General Settings > Client Profiling > Questionnaires. From here, there will be a section call 'Custom Questionnaire' and a button called 'Add new questionnaire'. Click this, and the following will appear: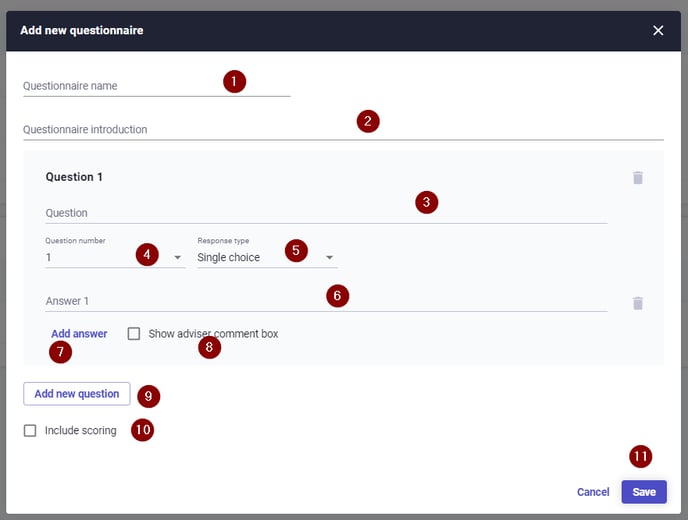 The steps to create are:
1. Add a name for the Questionnaire
2. Add perhaps some words on how to complete the Questionnaire
3. Record the first question
4. Nothing to change here as this is the first question being added
5. The choice for responses are 'Single choice' or 'Multiple choice'
6. Add the first possible response
7. Use this to Add more answer choices
8. Confirm if there needs to be a section for the Adviser to record comments against this question
9. Add more questions
10. If this new questionnaire needs to be scored, click to Include scoring and then create the score options.
11. Save
Now that the Custom Questionnaire is saved, it needs to be published. Click on the vertical ellipse button and choose 'Publish'.
Once done, a new Question set will need to be created. This is done in 'Client profiling' using the 'Add new question set' button. Choose what to add in and then Save.
This will need to be published as well and once that is done, use the 'Change active question set' to make the new one the default.