Currently, this section is for information only. The calculations just use the value of the property and not who owns it. However, in the future this information could be used as part of certain calculations.
There are a number of different scenarios when adding a property owned by two people as tenants in common, we'll cover the most common here.
Case 1 is a co-habiting couple who own a property 60/40. There are two options when adding this into EVPro:
Option 1 - one asset is recorded, with joint owners, tenants in common and 100% of the value is owned by these people. But not recording who owns what percentage: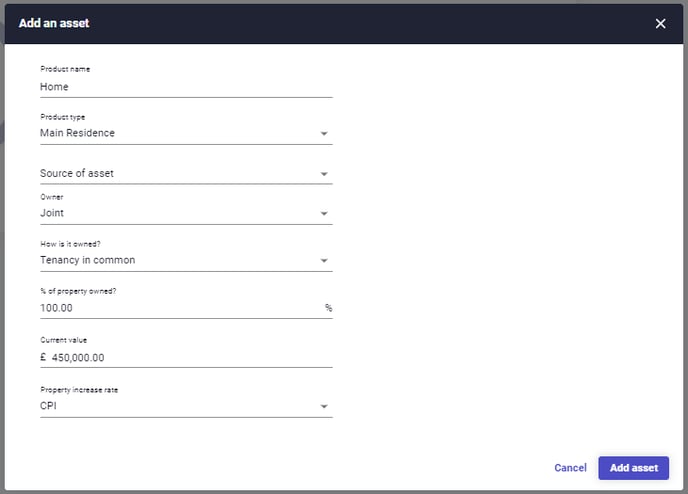 Option 2 - each person has their share of the asset added, as single owners, tenants in common with their share of the property value recorded: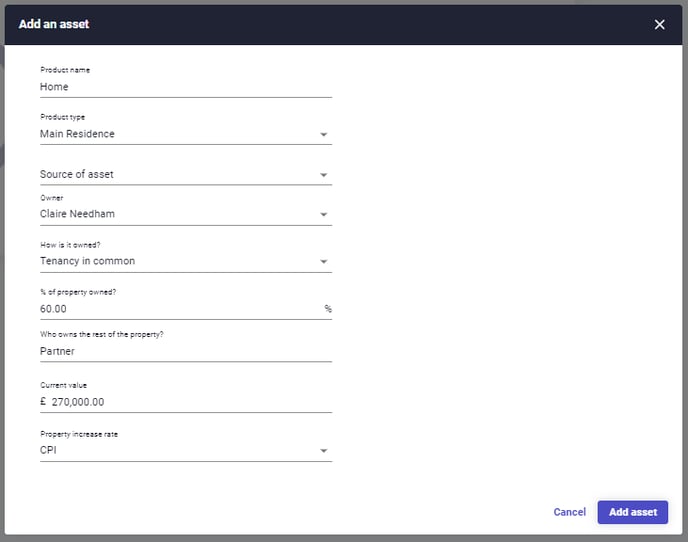 Case 2 is where a property is owned by two people, say a brother and sister as tenants in common, but you are only working with one of them. In this case the asset would be added as being owned by the person you are dealing with, tenants in common, with the value of the clients share of the property recorded. This would be in the same way as in the screen shot in Option 2 above. The value of any rental income and debt associated with the asset should also only be recorded as the percentage that the client receives or owes.
This has been left quite flexible, so that you can choose the right way for you to add the information.